Social Erasmus est un projet international d'Erasmus Student Network qui promeut l'implication sociale des jeunes qui participent aux programmes de mobilité, afin de faciliter leur intégration dans la communauté locale tout en leur donnant la possibilité d'apporter un changement social durable dans la société grâce à des activités volontaires. Le projet a pour slogan : Leave your mark !
L'objectif des Social Erasmus est d'enrichir l'expérience international  des jeunes à l'étranger avec des activités de volontariat qui leur permettent de comprendre les problèmes de la société et de travailler sur des solutions.
Social Erasmus offre aux jeunes internationaux l'occasion de connaître d'autres réalités et d'apprendre comment ils peuvent contribuer à améliorer la société en tant que citoyens du monde.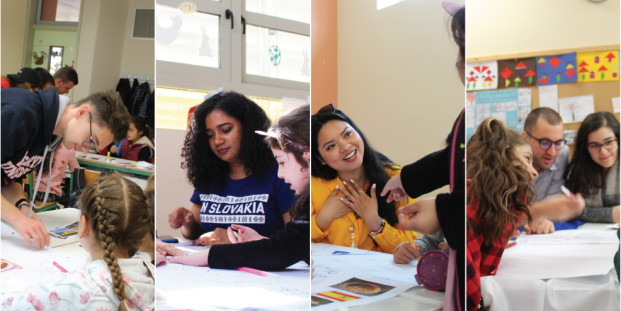 "The volunteering was the most exciting part of my exchange year, because it gave me the chance to meet and interact with interesting people from different generations and cultures. I felt that I was easily integrated into the community. It offered me many new impressions on the cultural and social system in France, and I was able to improve my social skills. All of these experiences will help me in my future career as a teacher."
"We always talk about the importance of volunteering and I am happy to have taken a step forward and actually tried it on my own! It was fun and surprisingly easy to spend some time with locals, especially seeing there was a team of people involved and everyone believed in the importance of what we were trying to do. I felt more present, volunteering reminds me of the immediate issues I can address and shifts my focus from the big, daring dreams to the small, daily steps I can take to make the dream come true."
"With volunteering, the wonder is right behind the corner. The pupils in Thessaloniki and their teachers supported us to make the activities lovely engaging because those kids made the difference: they were the embodiment of curiosity! Even after years of volunteering, you understand why you're still in love with it, and reaffirms what you always knew, but thanks to ESN is everyday clearer: Europe is our continent which cultivates hopes and peace, and there is much more room for cultural understanding than hate and division."
Vous souhaitez nous proposer un projet Social Erasmus ?